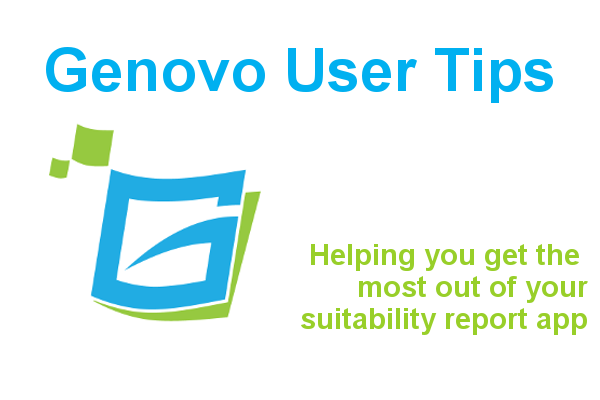 How to customise the table text in your reports
Kate Wells
Have you had chance to check out the
Genovo Suitability Report New Features & Updates August 2018
 as yet? You may have noticed we've made some changes to how the
Plan Summary
tables are rendered in the
review
and
recommendation
sections of your report.
Prior to August's release, I know some of our users experienced issues with words leaching over 2 lines when lots of fields were included in a table
.
This would happen when the column wasn't wide enough to display longer words in full. Following August's release,
if a table has more than 7 fields,
it will now be rendered vertically which resolves the issue. 
However, since the release, I've had a few users get in touch to ask how to increase the size of the table text. This gave me the idea to do a
user tip blog
linked to the
Report Theme.
This may be a refresher for some, or completely new to others, but hopefully you will all find it useful to help further customise your reports.

The Report Theme
In the
Report Theme
 there are two styles that relate to the table text – the
Table Header
and the 
Table Content
.
For each style you can customise the
font name (type)
,
font size, colour,
whether it is
bold or italicised
 and its 
alignment
. 
Font Name
Genovo comes preloaded with a number of popular fonts so users can easily customise the look and feel of their reports to reflect their own house style. You've probably noticed that this isn't an exhaustive list. However, we are able to add
custom fonts
to a 
Report Theme
. So if you are signed up to a
Company Plan Mini or above
and you'd like a custom font added, just drop me a quick email and I'll get that sorted for you.

Font Size
Since the release we've changed the default text size for table text in the Genovo Report Themes to
font size 11
as we feel this provides a good balance of presentation and legibility of the text. However, this is only our suggestion and you can clearly change this to reflect your own preferences – just remember, the font size you select in the
Report Theme
 is a global setting and will be used in
all of the tables, of all reports created by all of your account's users.


Font Colour
You can change the colour of the table text using the colour picker or by entering the appropriate hex code. A
hex code is a six digit code used in web design to specify a particular colour
. If you don't know the hex codes of the colours used in your branding,
here's a link to a handy little tool
which will grab the hex colours from your website simply by entering its URL.

Alignment
You can also change the alignment of the table text. However, once again just remember this will affect 
all of your tables
including, for example, the
Risk Warnings
table.  Therefore, if it's the case that you only want to change the alignment of text in one table, you may find it easier to just adjust it manually once you've downloaded your report to Word.
So let me know if you would like your own custom font added to your account; and as always, if you do need any guidance on how to customise your account just get in touch and we'd be happy to help.
Further Reading
You'll find lots of useful information about how to customise your reports in our
Knowledge Base
or by clicking on the links below.
Video Tutorial: ​How to customise the font and styling of your reports using a Report Theme
More Genovo User Tips
Make sure you don't miss any of our hints & tips – subscribe and get email alerts when we update our blog.
Share this post
Free Suitability Report Template
Learn how to make your reports more reader-friendly and engaging.
Categories
Follow Genovo