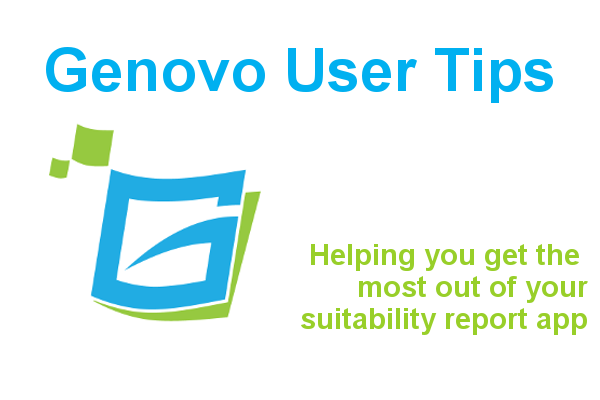 An Overview of Genovo's Matrices
Kate Wells
With Christmas fast approaching, and the rush to get those final reports complete, I thought this month we'd take a look at one of our best kept support secrets – Genovo's matrices, which I hope will further enhance your understanding of Genovo and help speed up your report writing. 
So let's get started with the most useful, the Report Sections Matrix…
The Report Sections Matrix
The Report Sections Matrix is a really simple, but highly effective little support resource (especially for those who are just starting out with Genovo) that demonstrates in a clear and tabular format which advice sections you need to add into the Report Builder for a variety of advice scenarios.
It lists out a number of commonplace advice scenarios down the left and then as you scroll across, you can see which report types that particular advice scenario can be covered off in, and which additional sections you will need to add into the Report Builder in order to do so.
It can also be accessed at any time whilst you are logged in to the Genovo app by clicking the click here link within the Report Builder screen as shown in the screenshot below.
The Summary of Report Sections Matrix
The Summary of Report Sections Matrix provides an overview of the sections you will find in each report type. It lists out all of the sections you'll find in Genovo, what type of section it is, for example, if it's a wizard section or a static template section; and then shows you which report type(s) you'll find it in.
This is a particularly useful matrix to refer to if you're not 100% sure which report type to use for a particular advice scenario as this will highlight which sections can be included. For example, there's no point in selecting a Review Report 2.0 if you're planning to recommend a new ISA as the New Investment Recommendation section isn't included in this report type.
The Summary of Wizard Section Steps Matrix
The Summary of Wizard Sections Matrix provides a summary of the steps you'll find in the wizard sections for each report type. It also highlights whether a step is fixed or conditional i.e. it's triggered by something you've previously selected.
Again, this is particularly useful if you're not 100% sure which topics / areas will be covered off in a section when a particular report type is selected. For example, if you want to include ex-post charges disclosure you need to be selecting either the Review Report 2.0 or the Continued Suitability Report.
The Recommended Actions Matrix
The Recommended Actions Matrix provides a summary of all the recommended actions that are available for selection in the Recommended Action step of the various review sections and what they are typically used for.
It also shows you which recommended action you'll find in each report type and which, if any, of the plan comparison steps will be triggered as a result.
You can access it at any time via the Recommended Actions step as shown below.
Summary of Report Tags
The Summary of Report Tags shows a summary of the tags that you will find in Genovo and what they are used for. This is really useful if you want to customise the template content of your report as it shows you which report type the tag can be used in.
I've previously written a user tip blog on how to use dynamic tags to further customise your Genovo reports so do have a look if you're looking to make any customisations in your account and refer to the matrix for more information.
Remember you can refer to any of our matrices at any time, they are there to help and to improve your report writing experience with Genovo. But, if you're not sure submit a support ticket and we'll get straight back to you.
Don't forget it's our monthly training webinar this Thursday and we do have a few spaces left so if you'd like to attend, please register via our website by clicking here.
Further Reading
You'll find lots of useful information about how to customise your reports in our Knowledge Base but I've also included some previous user tips which you may find useful.
Which Recommended Actions trigger the Plan Comparison steps in the review sections?
Overview of the different report types
Make sure you don't miss any of our hints & tips – subscribe and get email alerts when we update our blog.
Share this post
Free Suitability Report Template
Learn how to make your reports more reader-friendly and engaging.
Categories
Follow Genovo